History of the Band
Part 3
In December of 2003, Kevin and Elaine Magnan, trumpet player with the band, went before the St. Albans City Council with Elaine's idea of receiving permission to rename the bandshell. It was unanimously approved. On June 23, 2004 the band, led by its new conductor, Kevin Loomis, and The Community Singers led by Linda Smith put on a grand performance during a dedication ceremony to rename it Edric A. Loomis Memorial Bandshell. Kevin's two siblings were also on hand for the event. Brother Rick (a former trombone player in the band) from Atlanta, GA was the Master of Ceremonies and sister Ferne from Victory, VT ran the refreshment tent, the raffles and donations.
On November 28, 2004 we performed a Christmas Concert at the First Congregational Church to a packed house. The band was joined by Linda Smith and The Community Singers, with the band and chorus each peforming half the concert. The concert was so well received that Christmas performances by the band and chorus followed in 2005 and 2006. Since then, we have performed Christmas concerts roughly every other year or so.
In 2016, Kevin and Louise Loomis turned over the management, directorship and care of the Citizens Concert Band to Jeremy Berger (director/co-manager) and Jennifer McConnell (co-manager) with the assistance of the new Band Committee when needed. The band is extremely grateful to Kevin and Louise for their many years of hard work and dedication to the band, and will do our best to carry on this great tradition.
Kevin and Louise continue to be part of the band as musicians. They are enjoying the new leadership as they relax and help us to make good music.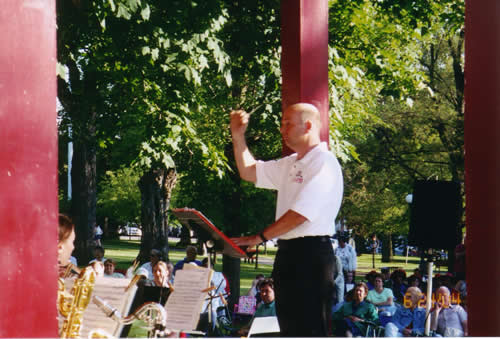 Kevin Loomis leads the band
Edric A. Loomis Memorial Bandshell
Dedication Concert, 2004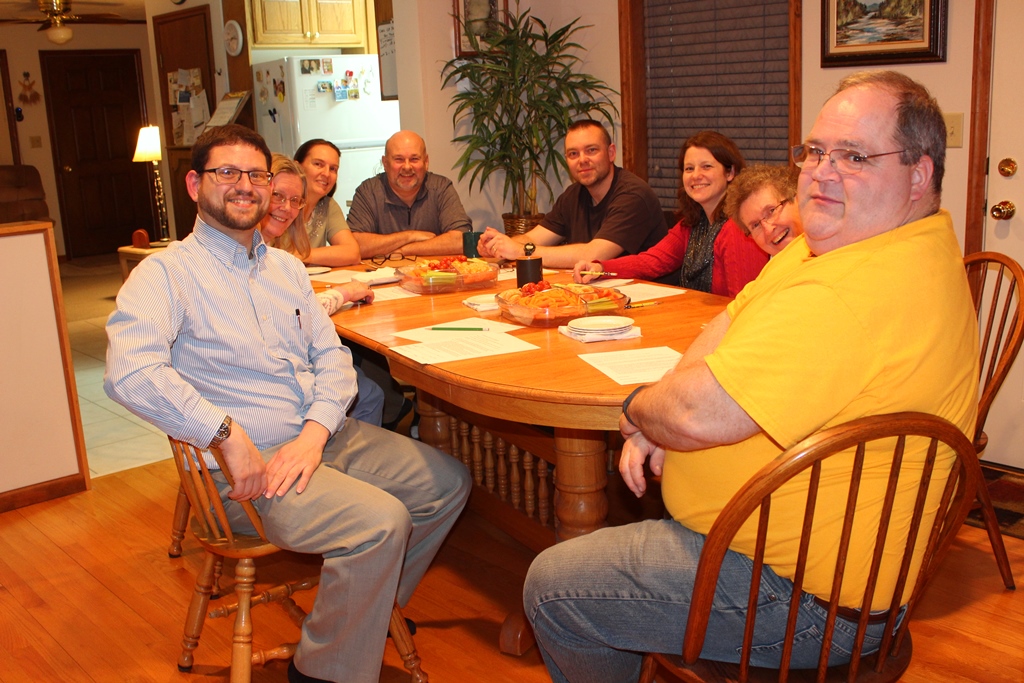 Kevin and Louise turn over the keys to the band at a meeting of the Citizens Concert Band Committee on February 24, 2016.
Left to Right: Jeremy Berger, Elaine Magnan, Louise Loomis, Kevin Loomis, Chad Jenkins, Jennifer McConnell, Virginia Bessette, Peter Roach. Not present: Committee member AJ Banach.